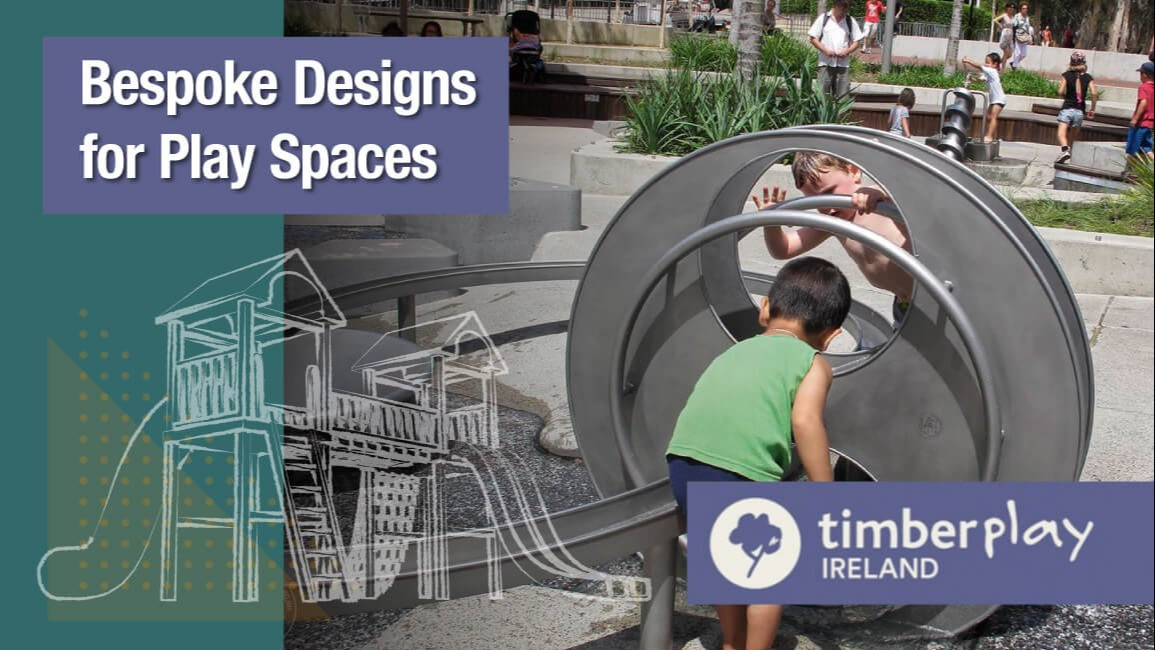 Bespoke Designs for Play Spaces
18 Oct 2022
Selected News Story
News
Across Ireland and the UK, there has been a growing trend in recent years for the design of bespoke play spaces. This also includes the integration of unique playground structures into existing spaces.
There are a number of reasons why bespoke design has become trendy again.
Closer attention to the unique needs of the users, e.g. children with specific physical or educational needs may require complex equipment and/or adequate space around these features.

Personalised themes which match the setting and desired goals of the play space.

Specific material requests. The desire for more sustainable and eco-friendly products significantly influences the design process.
The move away from staid and more traditional forms of playground is welcomed by the team at Timberplay Ireland. Our mission is to bring fun back to playgrounds. Our approach to play space design is always to consider the needs of children first, maximising their play value and balancing the twin pillars of risk and challenge in a safe, controlled environment.
Engaging Hearts and Minds
Many bespoke structures and spaces are aesthetically pleasing, but lack engagement from those that matter most - children. The design process is critical in clarifying the stated objectives of the playspace.
Is the focus on appealing to an adult buyer, or on maximising play value for children?
Buyers remorse is not uncommon and is usually expressed where the outlay for the bespoke equipment has failed to generate any significant return in terms of usage. There are fewer sobering sights than an expensive piece of equipment which looks amazing but is not used or is falling into disrepair, critically taking up valuable space that could have been optimised better.
Built to Last
An often overlooked consideration of bespoke design is the cost of maintenance. Many bespoke structures can be expensive to maintain. This can often be attributed to poor materials or build quality. Considering the long-term maintenance of these structures early in the design process can help future-proof and extend their longevity.
Many clients that we work with have implemented bespoke features in their play space, receiving assurances from suppliers through the issue of long warranties. It is worth reminding that such agreements don't protect you if the company that issues it is no longer operational or has ceased operations in the future.
As a value added reseller for Richter Spielgeräte - a highly respected Bavarian manufacturer for 50 years - Timberplay Ireland source the best equipment designers from Europe to produce world-class play spaces.
Our highly experienced team perform their due diligence to ensure that the structural safety of our play features are optimised. This is particularly telling in instances where we have been asked to replace some existing bespoke play features for clients which would fail to reach our own standards of excellence.
Making an Impression
We are a strong proponent of using tailored standard equipment and bespoke landscape design with art installations to provide a unique experience. Customisation of standard structures gives the benefit of a lifetime of continuous improvement on the standard elements, inviting lower costs and better value for money. This helps create a unique aesthetic and experience for users.
For clients seeking a truly bespoke design, there is a higher cost attached to such projects. Timberplay Ireland have undertaken projects for some of the best playgrounds in the world, but as with most cases, it comes back to clearly defining the goals and needs of the client.
---
To learn more about how Timberplay Ireland can help design your perfect play space, contact us today.